Connection offers the development and delivery of unique stories on a commissioned basis that relate to specific people or places.
The picture featured on the right is an example of such a service. In this photo Carl developed a tour for Craig-y-nos Country Park. Delivered as a first person narrative, Carl played Constantine Hibbert, the Head Gardener for Adelina Patti in the late 19th Century.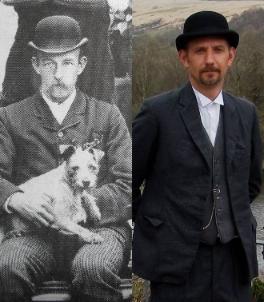 This is a premium service and offers a powerful way for attractions and sites of historical or environmental interest to convey important information to visitors in a memorable and enjoyable fashion.
The Bespoke Commission process requires a minimum of 3 months notice to enable the following process to be followed:
Consultation - The consultation phase requires a complete familiarisation with the location and/or people concerned in the story you want to be told. You will be consulted on the purpose of your event and the messages you want people to take home with them.


Creation - Following the consultation phase, we will create the story to be told based on the information obtained during the consultation and your needs.


Presentation of concept - We will present you with the outline, concept, story and ideas for your consideration and approval.


Rehearsal and refinement - where possible, we like to be able to involve you in a rehearsal, so that you can contribute to further refinement and ensure you get the best possible service.


Performance -

The story will be delivered in suitable costume (where appropriate) as a semi-theatrical storytelling session. The delivery can be mobile, walking around a venue or location, or static in accordance with your preferences.