Bringing something special to any event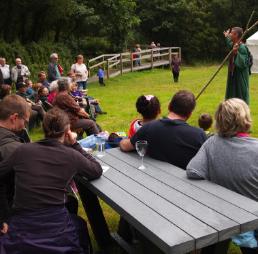 Do you need:
Drop in sessions run over a day?
Activities as part of a larger event ?
One off activities for a group of people ?
An evening's entertainment ?
Connection has something to offer you.
We deliver excellent entertainment value at events, parks, fun days, heritage parks, museums, festivals and much more. We can help you get your message across and provide fun and engaging activities that help inform on specific subjects.
We are adaptable, friendly and professional and are happy to work with you to identify exactly the best activity for your event.
Find out more by clicking the links below
Connection is experienced at delivering events in a range of situations including:
- Community Events
- Festivals and Parks
- Schools
- Corporate Events
- Tourist Attractions
All of our activities are flexible and can be adapted to a variety of situations. If you have a clear idea of what activity you want then that's great, simply contact us and let us know. Alternatively if you're not sure then you can let us know the purpose of your event and if there are any particular 'take home messages' you want to convey. We will then happily suggest some suitable options for you or if needs be develop something new to match your needs.
Connection's founder Carl Gough, has over 23 years experience of working in the field of tourism, leisure, interpretation, education and entertainment. By booking an activity with Connection you will therefore benefit from this wealth of experience and can be assured that we will work with you to create something memorable.
Through our networks we are also in touch with a wide range of other artists and performers so if you can't find what you're looking for with us, it may still be worthwhile to get in touch and we can forward your enquiry onto other organisations and individuals that may be better placed to deliver what you are seeking.