Creativity can be viewed in many ways and used for a variety of purposes. To be clear, our creative workshops are not about being artisitc, they are about self expression.
All too often people avoid being creative because they think they're not artistic but this doesn not have to be the case. (If you want to know more about this view of creativity as opposed to art, then please see the page about Carl Gough).
The workshops we offer rely on skills that can be mastered in a few minutes or layered and introduced in stages during the session. By taking this approach the workshop becomes inclusive and makes everyone feel capable, which is vital in order to open the doorway to genuine creative expression. By creating an environment where everyone can take part, confidence grows and people can be very surprised at what they can do once they stop doubting their ability.
Our approach ensures we provide fun and entertaining activities and by doing so we can also create a good environment for learning in its broadest sense. Participants will not only finish a session having learned how to make something but they have often learned something about themselves and other people. Depending upon the theme of what is being created, they may also learn a variety of other things.Due to the approach we use, our creative workshops can be used for entertainment value, team building, ice breakers, confidence building as well as for educational value.
Mix and Match Activities?
If you are looking to provide something a little different, you might like to consider a mix and match approach. It is possible to create a day long session for a group of people that incorporates different approaches, depending upon what it is you want to achieve from the day. For example we could offer a day on the environment, beginning with a storytelling session, followed by an environmental workshop and then creating something that will benefit the environment such as bug hotels or a wildlife pond etc.
Group sizes
Creative workshops usually require a more intensive level of supervision, especially if working with young children rather than adults. We prefer to work on a ratio of 1:10. If you are looking for an activity for children and have a large group in excess of 10 participants, you would need to arrange for additional adult supervision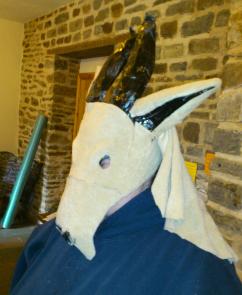 Examples of workshops
Activities can be provided on a group basis with everyone contributing to a single project or smaller individual activities where everyone makes their own item. e.g.:
Mask Making (variety of techniques)
Life casts
Simple basket making
Wildlife Gardening
Pond and waterfall creation
Incense making
Papier mache modelling
Candle making
Clay modelling
Wall murals
Greenwood Benchmaking
There are many other activities we can provide so if there is something particular you have in mind then please let us know. If we are unable to provide it directly, we more than likely know someone who can.