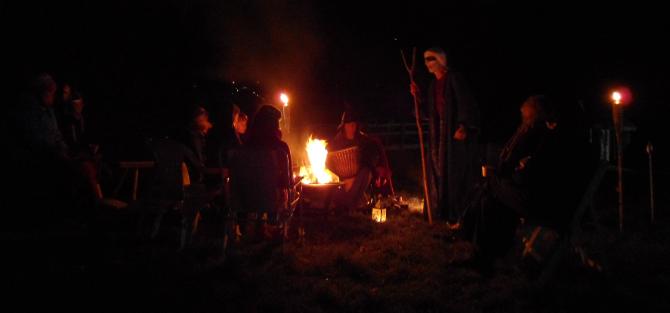 An entertaining classic! Connection offers a mix of stories, some based in fact, some based in fiction and others that straddle both to keep everyone guessing.
Our philosophy with ghost stories is to create suspense and to thrill; rest assured, terror has no place in these tales! The content is suitable for all ages, mixing atmosphere, spooky events and even humour. Carl chooses and writes stories that have something to say about life (if the listener chooses to hear them), but the decision as to whether ghosts really exist is left entirely up to each listener.
There is something quite special about a ghost story..... they seem to reach out to us on a sub conscious level. Everyone, whether they are old or young has a favourite ghost story; whether its something they experienced themselves, a story they were told by someone else, or a story attached to somewhere they live or have visited. Ghost stories can convey powerful moral messages that linger long after the stroy has been told. They can bring history to life and help people relate at a deep level to particular places. They can also make us laugh for not every ghost story necessarily has a spectral explanation.
We can provide an evening's entertainment for mixed audiences, children or adult only audiences, selecting appropriate stories for the situation. Indoor and outdoor venues can be catered for and if you want to try something really special, we can throughly recommend an outdoor telling around a camp fire (weather permitting of course).
Haunted Tours
If you are based in a particular location that has some spookey history, Carl can create a bespoke ghost storytelling session for you through the Commission service. Using the actual history of a place and the people who have lived (or died) there, you can have your very own Ghost Night. This always succeeds in lending some extra chill to the stories and can be delivered as a seated performance or as a walking tour. Please contact us to find out more if this is something that interests you.