About Carl Gough
You may be wondering how one person can be a storyteller, environmentalist, entertainer and educator (among other things). Well I guess I'm just lucky to have lived a life filled with opportunity. The highly varied employment and voluntary roles I have held over the years goes some way to explaining and hopefully this page will help you understand more about what I'm trying to achieve by setting up Connection. However if you can't find what you're looking for, by all means contact me.
I formally launched Connection as a business in January 2012 in order to bring all my experience and skills to the fore.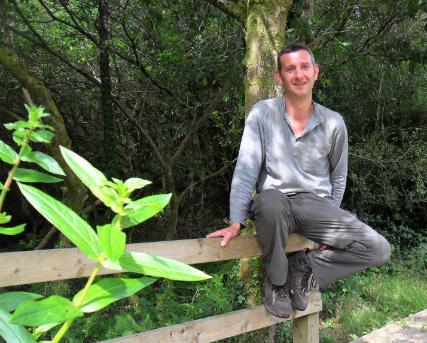 If you're particularly interested in details about my role as a Professional Storyteller, please have a look at my dedicated storyteller site.

I'm CRB checked and fully insured too in case you were wondering.
Carl on Storytelling:
Storytelling can communicate subtle messages that linger and encourage an audience to consider what their response would be in such a situation.
Morals, lessons, personal values and more can all be conveyed through storytelling and in some instances encourage people to re-evaluate their stance on important issues.
Equally storytelling can (and should) bring humor and be enjoyed for pure entertainment. In common with most other storytellers, I like to help
re-awaken people to this almost forgotten form of entertainment. Storytelling invigorates the imagination, strengthens communication and can achieve connection between people in a way that modern western society has been in danger of forgetting.
Carl on the Environment:
I have had a passion for nature in all its forms for as long as I can remember. The excitement of discovering something new, no matter how seemingly insignificant remains with me till this day and from what I'm told, that excitement and fascination forms an important part of my environmental workshops.
I love helping others to understand the natural world and there is nothing better than seeing people put the jigsaw of information together and begin to understand the complex relationships between all living and non living things. I believe such understanding is crucial to achieving a connection with the environment and sharing conservation messages.
Carl on Creativity:
When I was a child, Art and Creativity was a close second to nature among my interests and hobbies. However the enjoyment it held for me was sucked out when I pursued it as a subject in school because the freedom it gave me was removed. In school, Art suddenly had rules and if you didn't follow the rules then you failed. We needed to demonstrate we knew how to apply the rules but at the same time, for me at least, this approach stifled creativity.
It wasn't until I was an adult that I rediscovered the joy of being creative and made the distinction between creativity and art. Creativity is liberating, it enables expression and is joyful. It can be applied in many more ways than 'Art' and stimulates a flexible mind to look at problems in new ways and find alternative solutions.
Therefore the emphasis of my creative workshops is to build confidence and connect with self expression. Through a themed approach, creative workshops can be used to introduce other subjects or even linked to a storytelling session or environmental workshop (or both).
Carl on Education:
My many and varied experiences of working with audiences of all types has proven to me that the best way to engage people is to make it fun. When you make learning enjoyable then education becomes a reward in and of itself.
For example everyone can remember the good teachers they had at school and it's no surprise that those teachers are often the ones that made learning fun and as a result they managed to bring out our best grades.
I have held roles in both formal and informal education and irrespective of the learning environment, people need relevance to the subject being presented to them. Without relevance there is no context and no recognition that the information being presented is important; the result is the absolute antithesis of learning - in other words boredom!
Connection therefore embodies my views and experiences delivering formal and informal education, embracing entertainment whilst also recognising the opportunity to create a gateway to learning.
Carl on Business:
From direct experience I have sat through my fair share of dry and frankly tiresome business seminars, conferences, training days and team building activities. That is why I offer these services for businesses as well in order to bring some vitality to any business development training days.
As a social enterprise development officer I also have an in depth understanding of what it takes to run either a private or community business. So by applying my skills, knowledge and experience in business, presentation, creativity and teaching , I can promise stimulating workshops and support for business development.
_____________________
Well that's me and a little taster of my motivations that led me to establish Connection. If you should want to know anything else then please do not hesitate to contact me. I look forward to hearing from you soon.
Regards
Carl